Crystal Children's Choir - Taiwan (ROC)
Crystal Children's Choir-Taiwan (Crystal-Taiwan) was founded in December 2000.  It has grown into a 420 member organization with ages ranging from 6 to 18 years.  Crystal-Taiwan's main focus is to encourage the children to learn the technicalities of singing, and also emphasize the importance of teamwork.
Crystal-Taiwan's mission is to promote musical education and cultural diversities as well as the recognition and appreciation of choral music in its own ethnic origin. It performs a wide variety of songs chosen from classical to contemporary music around the world.
Other than 2~4 regular performances annually in Taiwan, Crystal-Taiwan has already toured several cities worldwide including San Francisco, Los Angeles, New York, Vancouver, Seattle, Stockholm, Salzburg, Seoul, Itami, Wakayama and Beijing.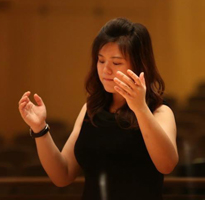 Conductor Hua-Lin Chung

Ms. Hua-Lin Chung maintains a diverse career as a teacher, conductor, and librettist. She received her Bachelor of Fine Arts and Master's of Choral Conducting from Taiwan Normal University (Taipei, Taiwan). Ms. Chung is currently a music teacher and chorus director in San-Min junior high school. She is also a conductor of Crystal Children's Choir, Hsinchu Science Park Choir.