The Richmond Singers - Canada
The Richmond Singers, the longest-standing community choir in Richmond, is a 55-voice women's choir founded in 1971.  They sing a wide range of music in many languages, from classical and sacred arrangements to traditional, pop, Broadway, folk, and jazz pieces.  United by a common passion for singing quality choral music and sharing the camaraderie of other women, they present two major concerts annually as well as performing at numerous community and charity events.  The Richmond Singers enjoys sharing the stage with other choirs, the most recent being the Vancouver Welsh Men's Choir, and encourages participation by youth singers either as soloists or as choirs.  They have participated in many festivals both locally (Expo 86) and nationally (Unisong in Ottawa and Festival 500 in Newfoundland) and are thrilled to be part of Kathaumixw 2016.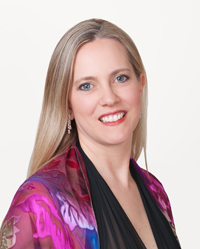 Conductor Natasha Neufeld

Natasha holds a Bachelor of Music as well as a Bachelor of Education from UBC.  Her post-secondary music studies were in oboe, piano and voice, as well as choral conducting under James Fankhauser.  She then continued her singing and conducting studies at the Mozarteum University in Salzburg, Austria.  She sang with the UBC Chamber Singers, Opera in Concert in Toronto, and the Bach Choir in Salzburg.  Natasha was also a member of the Vancouver Chamber Choir under Director Jon Washburn.
She currently teaches private lessons in both singing and piano and is the Music Director at Trinity Church in Point Roberts, Washington, where she not only orchestrates regular choral events and conducts a summer youth music camp but also performs in benefit concerts.  She lives in Tsawwassen with her husband, Jonathan Quick, and two sons.
Natasha has been the Artistic Director of The Richmond Singers since September 2004.