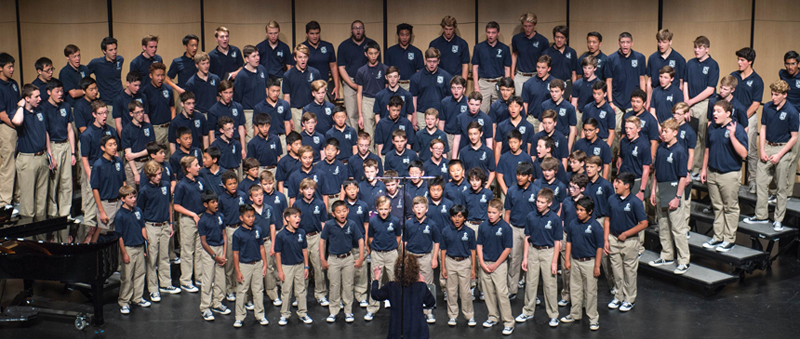 Ragazzi Boys Chorus - USA
Founded in 1987, Ragazzi Boys Chorus provides outstanding musical education and performance opportunities for boys and young men, ages 7 to 18. About 200 singers — from over 100 schools and over 30 coastside and bayside communities — participate in this internationally recognized program. Under the leadership of artistic director and co–founder, Joyce Keil, Ragazzi Boys Chorus performs a wide range of traditional and contemporary works for both the treble and changed voice. The chorus concertizes regularly throughout the San Francisco Bay Area. Ragazzi participated in the San Francisco Symphony's recording of Stravinsky's Perséphone, which was included in the Symphony's GRAMMY award for best classical album in 2000. The chorus also produces its own discography, which is available for sale and sample. Ragazzi Boys Chorus regularly tours in the United States and internationally to widen chorus members' musical and cultural horizons, and deepen Ragazzi's reputation for performance excellence.
Joyce Keil, Artistic Director and co-founder of Ragazzi, has served as panelist, adjudicator, and guest conductor for music teachers and choirs throughout the Western United States. An experienced teacher, she has served on the faculties of the College of Holy Names, Notre Dame de Namur University, and Lick-Wilmerding High School in San Francisco. Ms. Keil studied under the "Dean of Choral Music", Howard Swan, at Occidental College and later with John Alexander at Cal State Northridge. She has prepared choirs for San Francisco Opera and San Francisco Symphony, for conductors such as Herbert Blomstedt, Michael Tilson Thomas, David Robertson, Donald Runnicles, Raymond Leppard and James Conlon. She is the founder of the choral program and Advanced Placement Music Theory curriculum at Crystal Springs Uplands School, where students received unanimous superior ratings for their ensemble and solo work. Ms. Keil has served as the Western Division and California State Chair of the Boychoir Committee for the American Choral Directors Association, and has sat on the College Board for Advanced Placement Music Exams. Ragazzi Boys Chorus, under Joyce Keil's leadership, received a GRAMMY Award in 2000 for participating in the San Francisco Symphony's recording of Stravinsky's Persephone, was named a CBS Best Choir of the Peninsula in 2013 and has been cited by the San Francisco Chronicle as one of four elite youth choruses in the Bay area.
Ragazzi Boys Chorus is committed to excellence in musical performance and education. The Ragazzi experience instills self-confidence, cooperation, leadership, sensitivity and tenacity, helping our boys develop into young men of character and distinction. Ragazzi serves our boys and the community by performing a diverse selection of choral works to the highest artistic standards.