Tainan Chamber Choir - (Republic of China) Taiwan
Tainan Chamber Choir (TCC) established itself in 2002 as a mixed choir. Although composed of a small group of choristers from different backgrounds, the ensemble is dedicated to exploring its infinite artistic depth in choral music, with its unwavering belief and passion in the beauty of choral art. Under the direction of artistic director and conductor Shan-Min Yu, and influenced by her passionate enthusiasm to performance and choral music, the TCC has pursued artistic excellence in every performance and received massive acknowledgement at home and abroad. In 2007 the TCC was invited to participate in the Busan Choral Festival & Competition and brought home the Bronze Medal in Folk Category. At the invitation of the International Choral Festival Missoula Montana USA in 2009, the TCC has accomplished a versatile and multi-faceted performance to the delight and wonder of foreign audience. In 2012, at the invitation of the 5th International Choir Festival of Grand Prix Pattaya, the TCC participated in the competition and was awarded the Silver Medal in Folk category. Recently the TCC has developed deep friendship with the choral groups in Nikko City, Japan, joining and hosting international music festivals both in Japan as well as in Tainan to further and deepen the music interchange of both cities.
While striving to bring Taiwan's choral music onto the international stage, the TCC never forgets to dedicate itself to vitalizing and deepening the value and esteem of choral music at home. Under the visionary leadership of conductor and artistic director Shan-Min Yu, the TCC is enthusiastic in introducing new forms and innovative possibilities to their versatile concert performances, including guest performances in festivals, as well as self-produced concerts and collaborations with local choirs and musicians. Through innovative programming and varied repertoire across musical styles and genres, the TCC aims to deliver to its audiences a diverse and dynamic choral experience.
Based on this enthusiasm and dynamics, the TCC produced a theatrical concert "Rocking Garden" in 2010. The pioneering choral concert introduced theatrical elements to the choral concert: stage design, lighting, and multi-media, creating for the audience a brand-new ambience while they listen to the beautiful resonance of the choral music. Met with praise for their expressive and committed interpretations of the choral music, the TCC continued to produce a theatrical choral concert "Myth-Romance" in 2017. This concert applied versatile theatrical elements as well following a thematic repertoire, making the concert an integrated and unforgettable memory to the audience as well as to every member in the TCC ensemble.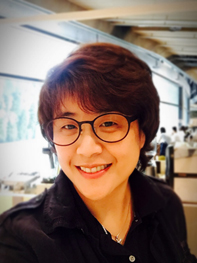 Shan-Min Yu is a cross media performing artist with multiple talents including choral conducting, singing, stage directing, acting, and movie directing. During her early childhood, she began taking Chinese opera lessons in her native Taipei, Taiwan. Reaching high school, she discovered her passion for Western music and graduated from the lauded Kwang-Ren Musical High School.
She continued her studies at Westminster Choir College in voice performance and received her Choral Conducting Master's Degree from Temple University in Philadelphia, USA. She has performed in off-Broadway shows in New York City. After appearing in "The Journey Beyond the West," composed by American-Chinese composer Fred Ho, the New York Times complimented her performance: "Ms. Yu's singing, Chinese, dovetails the vibrato projection of Western opera and the smooth curves of jazz singing."
In 2000, Ms. Yu returned to Taiwan and become the most well-known active choral conductor in the country. In 2005, she received her second Master's Degree in Drama Acting from Taipei National University of the Arts. Currently, she is pursuing her third Master's in Movie Directing from the National Taiwan University of Art to become a well-rounded powerhouse. In 2012 her short film 《See》 won the best public welfare film award at the Beijing International Micro Film Festival. From 2014-2015 she acted as the leading director of musical production for the Taiwan Ministry of Foreign Affairs International Youth Ambassador Exchange Program and traveled to 42 cities in 32 different countries.
Ms. Yu has conducted many choirs. From 2000-2009 she was the artistic director of Taipei Philharmonic Children's Choir. Now Ms. Yu is a full-time professor in the Shu-Te University Performing Arts Departments and also is the Art Director/Conductor for a multitude of choirs including Tainan Chamber Choir, Shu-Te Glee Club, and Penghu Cultural Bureau Chorus which have participated in well-known music festivals and competitions and earned numerous awards in many countries including South Korea, Hungary, the United States, China, Singapore, Germany, Spain, Japan, and Italy.